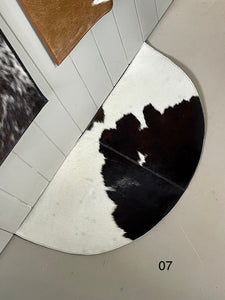 Genuine cowhide with a non slip textured carpet back. 
Approx 80cm x 40cm 
These are amazingly hard wearing - we have one on the main door of the workshop, it gets a lot of foot traffic and it needs very little maintenance. Just a shake outside and the occasional vacuum. 
Cleaning is easy. Apart from a light vacuum,  Wet Ones are brilliant for removing light stains and dirt. A mild shampoo (Johnson's Baby shampoo is the mildest & best) can be used on larger marks. Simply rub and rinse the sponge until the suds have gone.