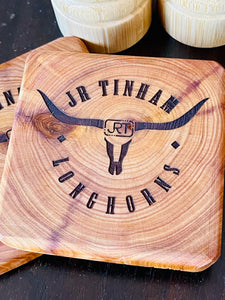 Hand crafted coasters made from Cypress timber, laser engraved with you own logo/business name/bride & groom names and dates etc. 
Coated with Marine grade polyurethane which makes them perfect for outdoor patios decks and pool areas. 
Approx 9cm x 9cm x 1cm
As these as hand created, some small differences may appear in the size and shape. 


Please allow 3 weeks for CUSTOM work to be completed. 
Simply reply email your order confirmation with your engraving requirements!